Thinking Outside The Box was the goal of the past couple of days at the Beyond Tellerrand Conference in Düsseldorf. What are conferences about? What makes them special? Why should you attend them?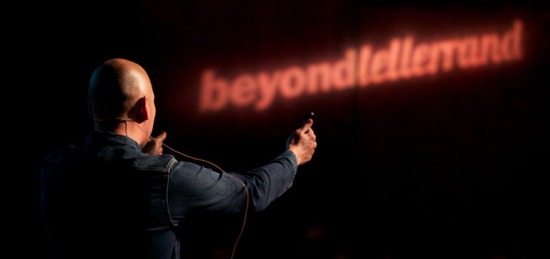 Following Frontend Conf in September, btconf was the second conference I've been to, ever. I guess I'm fairly new to all this and would like to focus on the things surrounding a conference much more than repeating the conference's topics over and over.
Warming Up
@tobiastom and me arrived in Düsseldorf a couple of days early. Saturday night (-2 days) we wanted to meet up with @derSchepp whom I've known via twitter for a couple of months now. For some unexplainable reason he preferred to stay with wife and newly born over getting drunk. At Fronteers he met Alejandro (from booking.com) who he sent our way. We had a lovely evening discussing our professional backgrounds and how life at booking.com is. I've never thought I'd say this, but after meeting Alejandro, I can actually imagine working at such a corporation.
Sunday was slow, getting up late and hanging around Starbucks. In the evening Smashingmag and BPSE had organized a warm up party. We talked to a lot of new people and a few faces we'd already known for quite some time. Topics flew from here to there and back. It was about the people and in essence everything but geeky. Getting to know people and what they do. At 23:00 (y'know, 11PM) the restaurant threw us out as they closed for the night. Someone mentioned the conference's speakers would be having a drink or two in their hotel's lobby bar. We rounded up some cabs and flooded said bar. Great discussions, albeit not with any speakers. The bar closed down at 01:00 (yup, 1am). Not being drunk enough we headed back to or own hotel for some more rounds. Some late arrivers were perfect prey for more awesome discussions. More beer and a couple of pizzas for "snacks". At about 04:30 we packed things up and went outside for a last smoke. @beautifycode was telling us all about the possibilities of running flash content on an iPad. We were standing 10m away from the door where he parked his suitcase. Running flash on iPad must've been insanely interesting, as none of us noticed the two idiots stealing said suitcase. Woot?
Monday: BTconf Day 1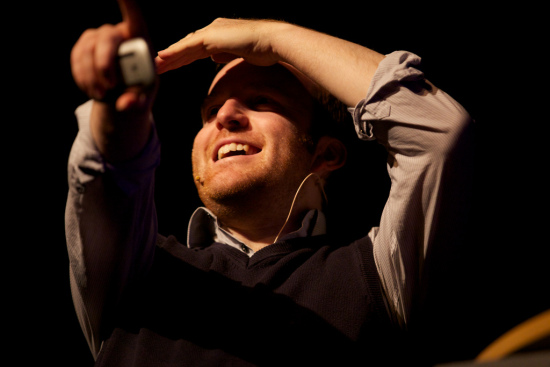 We arrived at the venue right on time. The few hours of sleep were blown away by continuous adrenaline surges. You see, the venue had an unimaginably cool flair. Christian Heilman did the first talk. Baseline: »Use the f**ing cool new features, NOW«. Steph Troeth explained the process of designing user experience. Aaron Gustafson promoted progressive enhancement. Naomi Atkinson told us to get out there and promote ourselves (Europeans read …Talent in Europe…, too). Heiko Behrens walked us through the possibilities of bringing web applications to smartphones using PhoneGap et al. (Sadly he did not mention anything about the Adobe AIR stuff allowing flash to "compile" on iOS, we just had learned about from @beautifycode the other night). Vitaly Friedman from Smashingmag tried to show us the invisible side of design.
All the talks so far were everything but bad. They were trying to convey messages or even open doors. Not so much with Seb Lee-Delisle. From him I've learned nothing new. Nothing. But it was one of my two favourite Talks of the entire conference. Seb may be a developer, designer and whatnot. First and foremost, he's (an extremely talented) entertainer. He did a live coding act. He played with some graphics in <canvas>. He drew a tree in under 5 minutes. He would've done it in 1 minute, but he still had to entertain us. Awesome. This was fun. If you ever have the chance, Seb is a guy you want to see.
I had to hurry my dinner, as we had to setup our equipment for the Workingdraft podcast. It's generally recorded on Monday evenings and we thought it would be nice to do it right at the conference. Since we were all in one place anyways, we were able to do some video, too. While the podcast is a German thing, we switched to English so Naomi Atkinson could join in. We're all in love with her, but don't ever tell our own better halves, ok? First time there was a woman on the show. First time there was a video. Coincidence? ☺
After the dinner break Yves Peters showed us the typography art of movie posters. Not very useful to your average work day, but entertaining none the less.
Marc Thiele (the sole organizer of this charming, awesome, insanely cool event) and FDT provided free beer in the lobby. Time for more networking with awesome people. Since there were more awesome people than beer, they even served Kölsch. A beer from Düsseldorf's arch enemy town Cologne.
We left the venue at about 22:00 and headed out for the city. A couple of guys found a rock/metal bar which we quickly filled up with geeky and soon-to-be-drunk people. My main topic that evening were TV shows. Don't ask… I just watch too much of that stuff. The bar closed at round about 02:00. Seeing a pattern yet? Luckily the bar accross the street was still open. Here we got to know some Düsseldorf folk. Not as fun as it sounds at 04:00 in the morning. We left the place at 05:00. Only 4 people left. We lost one guy to another hotel. 3 people left. Hotel bar provided more beer and pizza. Seems to be becoming a habit. At 06:00 we finally hit the hay.
Tuesday: BTconf Day 2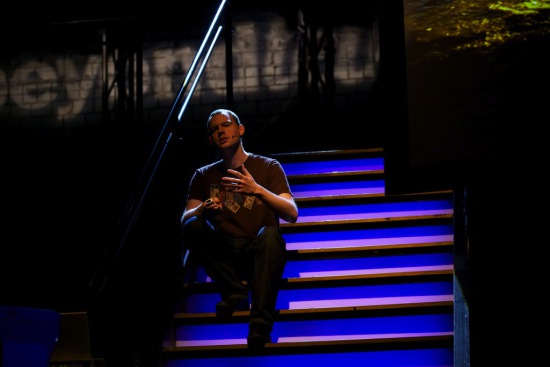 The first talk was supposed to start at 10:00 - we arrived at 10:02. A bit light headed we listened to Des Taynor telling us all about visualizing data (charts, how to do them right and how to cheat). Steph Hay brought us closer to writing awesome content. Content? yeah, the stuff you put between your <h1>s and <p>s. The pieces of text you generally think WTF? about. I guess I'll have my customers hiring professional copy writers for the next projects. Simon Collison went on about our work being craftsmanship. A motivational and inspiring talk.
Tomas Caspers tried to explain accessibility. A topic I was interested in learning something about. I'm not going to bash his performance, seeing I wouldn't have done any better. I was told he rocks in German. I guess I'll give him another shot (and so should you!)
Dan Rubin spoke about usability testing and how we can "cheat" our way past time-consuming high fidelity mocks.
Jake Archibald was introduced as "the second choice" type of speaker. At the time I thought ok, not every rock star could make it to Germany. The topic wasn't particular interesting (to me) either. I've told you about seeing Seb Lee-Delisle. Jake could be his co-performer. Jake did an awesome job of conveying a message and entertaining the shit out of us.
Jon Tan brought us closer to web typography. I now know I'll never master this art. But I can't tell "green" from "circle" anyways.
After a raffle and Marc's closing words we left the venue rather quickly. Some ridiculous German comedian type of thing just started his show in the other half of the venue. After an ordeal of good byes we made it back to the hotel. A near by living friend took us to a steak house for dinner. Funny enough it was the same restaurant the speakers moved to. After dinner we joined them at the Warsteiner. My dear friends from Brighton, Warsteiner is a "beer".
At the place not called Warsteiner we found a couple of empty seats, right next to Jake Archibald and Christian Heilman. After getting used to their speed of conversation we chimed in. You couch surfer may be surprised, but, there was no geeky tech stuff going on. Topics ranged from gay people via reading the koran on a plane to I-don't-even-remember. It made the guys I've read much from regular human beings. Totally worth it. I guess I should mention the American guy, too. After losing his language barrier (yeah, funny, right?) he started talking to us in German. He was lacking practice, but man it was good. We had a great time talking to these people in an awful mixture of English, German and hands. Eventually we got kicked out of the not-Warsteiner as well. Moving on to the speakers' hotel we managed to persuade the waitress to server another round after they'd already closed. Here we met a woman from the States currently living in Ireland, launching a new Irish web developmen magazine some time soon. Pretty interesting how even English speaking countries (not being USA or UK) seem to have their difficulties with forming communities and self-promotion.
Cooling Down
Wednesday and Thursday were a bit slower. We slept in. Did some "work" out of Starbucks. We let the impressions gathered at btconf sink in and reflect what we had learned. We did some more "work". Discussed how we could improve our work and style as Simon Collison and Naomi Atikinson taught us. Ah, sitting in a Starbucks meant consuming lot's and lot's of coffee, or course. The point was, to slow down, take a step back and really think about the messages the talks tried to convey. And yes, we even had to disagree with a couple of things. But, that's life. Not everyone can teach you something new, not everyone can teach you something you need. And there's definitely lot's of room for discussion. If you don't discuss, you don't reflect, you don't take in. I feel this is important. But I haven't seen anyone else do it (our way).
@derSchepp seemed to pity us. He and his lovely family invited us over for Libanese dinner on Wednesday. We met his wife, who again had insights to share (being the head of media marketing at a larger corporation and all). Ah, and his fork, being about yee high, chimed in every once in while with a well placed cry. Thursday he took us to a Japanese restaurant. Apparently Düsseldorf has the largest japanese population outside of Japan. Food was delicious, although I have no clue what I ate. Not sure if I want to, either…
Now I'm sitting at another Starbucks waiting for my flight back to Zürich. It was a wonderful experience. I'm thinking about finding the words to thank Marc Thiele for making all this happen. But I can't put my affection into words. Thank you Marc!
TL;DR
Things that stuck:
Can you draw this ship? No! Simon Collison
Define consistency: Not PHP Jake Archibald
Bamboons eat bananas the wrong way Tomas Caspers
Dear Germans (anyone, actually), just do it:
get off your couch
attend conferences
attend different conferences
don't be afraid of speaking english
approach people (smoking helps, don't start if you haven't ☺)
come early and leave late - less stress, more fun
treat conferences as a mixture of professional information exchange and pure fun / vacation
and now watch the talks at home!
The author does not allow comments to this entry